The Society holds an annual confere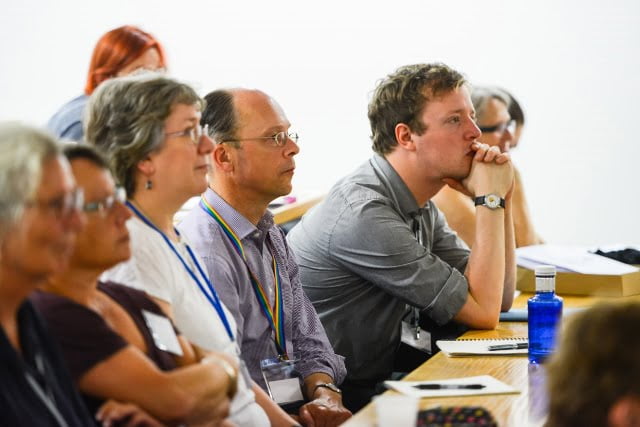 nce over one or two days at various locations around the UK (and occasionally abroad), usually at academic venues.
2018: Lancaster: "Change and continuity"
9-10 September 2018.  We will share a plenary session and a gala dinner with the Society of Editors and Proofreaders, who will be having their own conference at the same venue. Programme and booking information available shortly.
2017: Oxford: "Facets of indexing: the diamond anniversary conference"

The Society celebrated its 60th anniversary with a memorable one-day conference and gala dinner at St Anne's College, Oxford, on Wednesday 21 June 2017 – the longest (and hottest) day of the year.  This was immediately prior to the two-day symposium on the book index at the Bodleian Library, giving delegates a three-day feast of indexing at a very modest price. Reports on conference sessions and presenters' handouts will be available in the members' area in due course.
2016: Birmingham: "Back to the future"
A one-day conference and AGM was held at The Studio, Birmingham on Tuesday 13 September 2016. Delegates travelling to Birmingham the previous day stayed in nearby hotels and met up on the Monday evening. Conference reports and lecture slides are available in the members' area of the website.
2015: York: "Collaborate and innovate" SI-SfEP 1st joint conference
The first SfEP/SI joint conference was held at Derwent College, York University, on 5-7 September 2015, providing an excellent opportunity for our large community of copy-editors, indexers and proofreaders to develop their professional knowledge, network and socialise, alongside international delegates from both societies.
2014: Cirencester: "Tesserae to tablets … uncovering the future"
5 – 7 September 2014, Royal Agricultural University, Cirencester:  conference reports are available in the members' area
2013: Wyboston: "Revitalise your business, refresh your skills"
12 – 14 July 2013, Wyboston Lakes, Wyboston, Bedfordshire: conference reports are available in the members' area.
2012: Brighton: "An indexing Olympiad: international perspectives"
11 – 13 July 2012, Mercure Brighton Seafront Hotel.
2011: Keele: "Index-Linked Futures"
2 – 4 September 2011, Keele University, Staffordshire
2010: Middelburg: "The challenging future of indexing"
The first non-UK conference since 1997 took place from 29 September to 1 October 2010 at the Roosevelt Academy, University College, Middelburg, The Netherlands
2009: York: "Search engines – driving indexing forward"
11 – 13 September 2009, University of York (Heslington Campus)
2008: Winchester: "The round table conference"
11-13 July 2008, West Downs Centre, Winchester
2007: London: "Golden retrievers"
The Society celebrated its golden anniversary with a three-day conference from 13 to 16 July 2007 at Whitelands College, Roehampton University