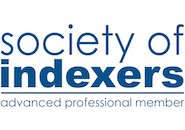 Susan Vaughan
Location: BATH
Membership Grade: Advanced Professional Member
Contact Info
General Experience
I am an archaeology graduate who has been indexing for almost 30 years. Most of my indexing experience has been in the field of archaeology and includes both long and short projects. Related subject fields in which I have experience are anthropology, architecture, history, local history and crafts.
Subjects
Archaeology
My experience includes excavation reports, monographs, journals (county and national), conference proceedings and general works. Clients include MOLA, Wessex Archaeology, East Anglia Archaeology and the Society of Antiquaries.
Architecture
I have indexed a wide range of works on architecture including studies of individual buildings and profiles of individual architects.
Local History
I am currently indexing several county journals including Bristol and Gloucestershire, London and Middlesex, Suffolk, and Essex. I have produced both single and cumulative indexes.
-Arts, Crafts and Culture
In my spare time I am a keen craftsperson and have been making pottery for many years. I am also an amateur basketmaker and have indexed the Basketmakers Association newsletter for many years.
Related qualifications
BA Hons, Prehistory and Archaeology

//= $dbem_address;?> //= $dbem_address_2;?>
//= $dbem_zip;?>
Other skills
Recent indexes include
Francis, Antony, The Deptford royal dockyard and manor of Sayes Court, London: Excavations 2000-12, MOLA, 2017
Herring, Peter et al, Archaeology and Landscape at the Land's End, Cornwall. The West Penwith Surveys 1980-2010, Cornwall Council, 2016
Evans, Jeremy et al, The Horningsea Roman Pottery Industry in Context, East Anglia Archaeology, 2017
Franklin, Geraint, Howell Killick Partridge & Amis, Historic England, 2017

Clients Include
East Anglia Archaeology
Historic England
Wessex Archaeology
Royal Collections
Museum of London Archaeology

Special Publication Type
Tools