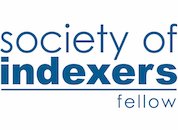 Ann Hudson, MA PGCE
Location: CHICHESTER
Membership Grade: Fellow
Contact Info
Social Links
General Experience
I have been indexing since the 1980s and have been shortlisted three times for the Wheatley Medal for indexing. I have a Cambridge honours degree in archaeology and art history. I mainly index journals but occasionally take on book indexes in my specialist subjects if the deadlines are not too tight.
Subjects
Archaeology
I have many years of experience in indexing archaeological monographs and periodicals. I am the regular indexer for the journals Vernacular Architecture and Journal of the British Archaeological Association and for the county journals Sussex Archaeological Collections and Proceedings of the Cambridge Antiquarian Society.
Art History
The history of art and architecture was my final degree subject and I have indexed a wide range of books in this field, from monographs on Piero di Cosimo and Giovanni Bellini to studies of railway station and prison architecture. I am the regular indexer for the journals Vernacular Architecture and Journal of the British Archaeological Association.
Local History
I have much experience in indexing UK local history, with particular expertise on Sussex, London and Cambridgeshire.
Related qualifications
MA PGCE

//= $dbem_address;?> //= $dbem_address_2;?>
//= $dbem_zip;?>
Other skills
Training In Indexing
I have taught indexing for many years, through workshops, 'live' and online, and tutorials. On behalf of the Society of Indexers I have run many in-house training sessions on indexing for major publishing companies. Until 2021 I was the Training Director on the Executive Board of the Society of Indexers.
Consultancy
I can offer consultancy to editors of historical records publications who are compiling their own indexes.
Recent indexes include
Brian G. Awty, Adventure in Iron: The blast furnace and its spread from Namur to northern France, England and North America, 1450-1640; a technological, political and genealogical investigation, Wealden Iron Research Group, 2019
Nat Alcock, P. S. Barnwell and Martin Cherry (ed.), Cruck Building: A Survey (Rewley House Studies in the History of the Environment no. 11), Shaun Tyas, 2019
Michael J. Schreffler, Cuzco: Incas, Spaniards, and the making of a colonial city, Yale University Press, 2020
Daniel Wallace Maze, Young Bellini, Yale University Press, 2021
Ian Forrest and Christopher Whittick (ed.), The visitation of Hereford Diocese in 1397, Canterbury and York Society, 2021
Simon Keith, Surveying the Domesday Book, Windgather Press, 2022

Clients Include
Vernacular Architecture Group
British Archaeological Association
Sussex Archaeological Society
Cambridge Antiquarian Society

Special Publication Type
Journals (Learned And Professional)
Journal indexing forms a large part of my work, ranging from 1-volume to 25-volume indexes.
Tools