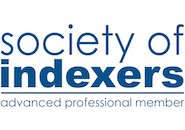 Sharon Redmayne
Location: BRISTOL
Membership Grade: Advanced Professional Member
Contact Info
General Experience
I qualified as an indexer in 2009.  I have a legal background, and have also worked in legal, social and health policy research.
Subjects
Natural History
I have indexed Westonbirt Arboreteum's quarterly magazine for nine years (2008-2016)
Healthcare Management
I have worked as a researcher on several health policy projects, and written and co-authored several reports and a book. Indexes include:
Organizational Capacity Building in Health Systems, Niyi Awofeso (Routledge)
Governance, Commissioning and Public Health, Linda Marks (Policy Press)
Healthcare in Transition, Alan Cribb (Policy Press)
The Future for Health Promotion, Colin Palfrey (Policy Press)
Human Resources
I have a postgraduate qualification in personnel management, and have worked in human resources.
Indexes include:
Human Resource Management in Context, David Farnham (CIPD)
Resourcing and Talent Management, Stephen Taylor (CIPD)
Introduction to Organizational Behaviour, Michael Butler and Edward Rose (CIPD)
Learning and Talent Development, Jim Stewart and Clare Rigg (CIPD)
Cookery Books
Indexes include:
Le Petit Paris, Nathalie Benezet (Hardie Grant)
Paris Pastry Club, Fanny Zanotti (Hardie Grant)
-Government and Politics
Indexes include:
State-Centric to Contested Social Governance in Korea, Hyuk-Rae Kim (Routledge)
The Arab Spring, Democracy and Security, Efraim Inbar (ed), (Routledge)
Politics and Governance in Indonesia, Muradi (Routledge)
Reconstructing Afghanistan, William Maley and Susanne Schmeidl (Routledge)
Militant Democracy, Svetlana Tyulkina (Routledge)
Turkish AK Party and Its Leader, Unit Cizare & Burhanettin Duran (eds) (Routledge)
A Companion to State Power, Liberties and Rights, Sharon Morley, Jo Turner, Karen Corteen, Paul Taylor (Policy Press)
Syrian Foreign Policy, Francesco Belcastro (Routledge)
Social Policy
I have worked as a researcher on several social policy projects in a previous job.
I have indexed many social policy books, recent examples include:
Welfare, Populism, and Welfare Chauvinism, Ben Greve (Policy Press)
Critical Practice with Children and Young People, Martin Robb et al (eds) (Policy Press)
Understanding the Mixed Economy of Welfare, Martin Powell (ed) (Policy Press)
Poverty Propaganda, Tracy Shildrick (Policy Press)
The Best Interests Assessor Practice Handbook, Rachel Hubbard & Kevin Stone (Policy Press)
-History and The Past
Recent indexes include:
The Knights Templar, Michael Kerrigan (Amber Books)
Greek Myths, Martin J. Doughty (Amber Books)
Plantagenets, Ben Hubbard (Amber Books)
Women, Peace and Welfare, Ann Oakley (Policy Press)
Russian Liberals and the Revolution of 1905, Peter Enticott (Routledge)
Military History
I have indexed many military history books from a wide range of historical periods, including books about specific wars, weapons and soldiers. Examples are:
The Aleutians 1942-43, Brian Lane Herder (Osprey)
Charlie Company's Journey Home, Andrew Wiest (Osprey)
German Weapons of WWII, Stephen Hart (Amber Books)
The Bar Kokhba War AD 132-136, Lindsay Powell (Osprey)
British Destroyers 1939-45, Angus Kostam (Osprey)
Law (All Areas)
I have a BA in Law, and a Masters in Law, and have worked previously at the Law Commission. Indexes include:
Cluster Munitions and International Law, Alexander Breitegger (Routledge)
Privatising Probation, John Deering & Martina Feilzer (Policy Press)
The Responsibility to Protect and the International Criminal Court, Serena Sharma (Routledge)
The Short Guide to Criminal Justice, Lisa O'Malley & Sharon Grace (Policy Press)
The Essential Guide to Planning Law, Adam Sheppard et al (Policy Press)
-Sports and Games
I have a personal interest in playing and watching sport – particularly cricket.
Social Sciences (All Areas)
As well as social policy and healthcare management mentioned above, I have also indexed books in other areas of the social sciences, including:
Pseudo-Public Spaces in Chinese Shopping Malls, Yiming Wang (Routledge)
Media and Governance, Thomas Schillemans & Jon Pierre (eds) (Policy Press)
Evidence Based Policing, Renee Mitchell & Laura Huey (eds) (Policy press)
Brain Development and School, Pat Guy (Routledge)
Human Rights and Equality in Education, Sandra Fredman et al (eds) (Policy Press)
Current Affairs
Recent indexes include:
Tracing the Consequences of Child Poverty, Jo Boyden et al (Policy Press)
Everyday Europe: Social Transnationalism in an Unsettled Continent, Ettore Recchi et al (eds) (Policy Press)
Protest Camps in an International Context, Gavin Brown et al (eds) (Policy Press)
Sustainable Regeneration of Former Military Sites, Samer Bagaeen & Celia Clark (eds) (Routledge)
People Powered Money: Community Currencies in Action (New Economics Foundation)
Terrorism Online, Lee Jarvis et al (eds) (Routledge)
Pets
Indexes include:
Dog About Town, Louise Glazebrook (Hardie Grant)
The Pawfect Guide to Thinking Like a Dog (Amber Books)
The Purrfect Guide to Thinking Like a Cat (Amber Books)
Related qualifications
Qualified Proofreader

//= $dbem_address;?> //= $dbem_address_2;?>
//= $dbem_zip;?>
Other skills
Proofreading
I qualified as a proofreader with merit
Research
I worked as a researcher at the Law Commission, and the Centre for the Analysis of Social Policy at Bath University
Writing
As a researcher at Bath University, I wrote and co-wrote several published reports, monographs and a book on health and social policy.
Recent indexes include
Ann Brooks, Women, Politics and the Public Sphere, Policy Press, April 2019
Mary Kaldor, Iavor Rangelov, Sabine Selchow (eds), EU Global Strategy and Human Security, Routledge, 2018
Brian Lane Herder, The Aleutians 1942-43, Osprey, March 2019
Friends of Westonbirt Arboretum, Westonbirt Quarterly Magazine, 2008 - 2016
Ben Hubbard, The Plantagenets, Amber Books, August 2018
Gordon Cook, Sugar and Obesity, Melrose Books, 2018
Simon Davis, The USA 1918-41 (iGCSE textbook), Pearson, 2017

Clients Include
Policy Press, Wearset, Osprey, Amber Books, Pearson, Melrose Books

Special Publication Type
Catalogues
I have regularly indexed the book catalogues for both Amber Books and Egmont Books.
Children's Books And Materials
Indexes for children's books include:
Monsters in the Night, Lisa Regan (Amber Books)
Fearsome Beasts (Amber Books)
Dinosaurs of the Jurassic World (Amber Books)
Newspapers And Magazines
I have indexed the quarterly magazine for Westonbirt Arboretum for nine years (2008-2016)
School Books
I have indexed various school textbooks:
New GCSE Science, Student Book: OCR Gateway (Collins)
New GCSE Science – Additional Science, Student Book: OCR Gateway (Collins)
GCSE Computer Science (Pearson)
The USA 1918-41 (Edexcel iGCSE textbook) (Pearson)
Germany: Development of a Dictatorship 1918-45 (Edexcel iGCSE textbook) (Pearson)
Tools