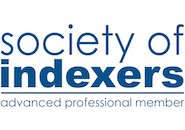 Penelope Kent, BA Hons
Location: Kent
Membership Grade: Advanced Professional Member
Contact Info
General Experience
I began indexing in 2001. I have a degree in Politics and Modern History and prior to indexing I qualified with the Institute of Personnel Management and spent over fifteen years working in human resources and administration.
I index a wide range of subjects including the social sciences, education, politics, architecture, art and design.
Subjects
Education (All Areas)
Recent indexes include Teaching Language as Action in the ELA Classroom (Routledge), Learning Analytics in the Classroom (Routledge), Becoming an Outstanding English Teacher (Routledge), Creativity, Technology and Learning (Routledge) and Education Systems and Inequalities (Policy Press).
Politics
Recent indexes include Comrades in Conflict (Manchester University Press), Clear Blue Water? (Policy Press), The Crosland Legacy (Policy Press), Staging Dissent (Routledge) and A Level Politics (Pearson).
European Union
Official History of Britain and European Community Volume 2 (Routledge, 2012), Official History of Britain and European Community Volume 3 (Routledge, 2018).
Art and Design
Recent indexes include The Graphic Design Process (Bloomsbury), Interaction for Designers (Routledge), Album Art (Quid Publishing), Anatomy for Artists (Search Press),Typography Second Edition (Fairchild Books), AQA AS/A-Level Design and Technology Product Design (Pearson) and OCR AS/A Level Design and Technology (Hodder Education).
Art History
Recent indexes include Pacific Presences (Sidestone Press), Swedish Design: A History (Bloomsbury) and Gauguin's Challenge (Bloomsbury).
Architecture
Recent indexes include How Drawings Work (Routledge), Architecture and Identity Third Edition (Routledge) and Adaptable Architecture (Routledge).
Photography
Recent indexes include Practical Projects for Photographers (Bloomsbury), Grammar of the Shot (Routledge), Outdoor Flash Photography (Routledge), The Essential Guide to Professional Photography (Routledge), Understanding Photobooks (Routledge) and Ultimate Insiders (Routledge).
Human Resources
Recent indexes include Transformational HR (Kogan Page).
Geography - Human
Recent indexes include Environment in the Lives of Children and Families (Policy Press),
Placemaking (Routledge), Neoliberal Spatial Governance (Routledge) and Urban Disaster Resilience (Routledge).
Social Work
Recent indexes include In Whose Interest? (Policy Press), Mental Health Social Work Reimagined (Policy Press), Social Work and Social Theory (Policy Press), Research for Effective Social Work Practice (Routledge) and Social Work Practice with Lesbian, Gay, Bisexual and Transgender People (Routledge).
//= $dbem_address;?> //= $dbem_address_2;?>
//= $dbem_zip;?>
Other skills
Embedded Indexing
I have indexed using the embedded indexing tool in Microsoft Word.
Clients Include
Bloomsbury
Hodder Education
Hungry Tomato
Integra
Keystroke
Policy Press
Taylor & Francis

Special Publication Type
Catalogues
Turner Fine Foods catalogue and the 2017, 2018 and 2019 editions of Brakes catering catalogue.
Children's Books And Materials
Various children's books including over 50 titles for Hungry Tomato.
School Books
GCSE, AS, A Level, and IB Diploma textbooks published by Hodder Education, Oxford University Press, Macmillan and Pearson, in many subjects including history, politics, religious studies, design and technology, business and psychology.
Textbooks
Undergraduate textbooks: subjects including politics, sociology, psychology and geography for Routledge. BTEC and NVQ textbooks: subjects including business, sport, construction, painting and decorating, and hairdressing for City & Guilds, Oxford University Press and Pearson.
Travel Guides
Titles in series for AA mini guides and Thomas Cook pocket guides to UK cities.
Tools