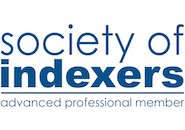 Pam Scholefield
Location: Malvern
Membership Grade: Advanced Professional Member
Contact Info
General Experience
I've been creating indexes for over 10 years working primarily for academic publishers, but enjoy indexing many subjects.
Subjects
Archaeology
Excavation experience in Roman Britain and a medieval timber castle. Indexing experience from pre-history onwards.
Classical Studies
My degree is in Classics and I have indexed a number of books on literature.
Cycling
Subjects include racing and bike maintenance.
Cookery Books
I have a fairly large collection of cookery books so I enjoy indexing them, too.
Related qualifications
//= $dbem_address;?> //= $dbem_address_2;?>
//= $dbem_zip;?>
Other skills
Recent indexes include
Patrick Ottaway, Winchester: Swithun's 'City of Happiness and Good Fortune', Oxbow, 2017
Judith Pollmann, Memory in Early Modern Europe, 1500-1800, Oxford University Press, 2017
Scott Murray, The Title: The Story of the First Division, Bloomsbury Publishing, 2017

Clients Include
Oxbow, Bloomsbury, I B Tauris, CUP, OUP

Special Publication Type
Tools