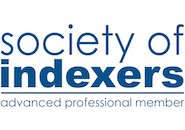 Nigel d'Auvergne
Location: STEYNING
Membership Grade: Advanced Professional Member
Contact Info
General Experience
Full-time indexer, available all year, providing 'Back of Book' indexes for dead-tree books, and clickable indexes for eBooks.
Preferred subject areas include: Science • Technology • Medicine • Engineering • Commerce.
Educational levels of my indexing projects range from school textbooks, through general interest/graduate publications to postgraduate research.
In addition to 'standalone' indexing, my experience includes embedded indexing in Word and XML files, and I'm willing to index publications of all types, sizes and formats. Large, complex and unusual projects are welcome; rush jobs are welcome.
Clients range from self-publishing individuals through to multinational companies.
By adding value to a publication, and thereby increasing sales, a good index will pay for itself many times over.
Please visit my website for more information, and for links to many of my indexes.
Subjects
-Biological, Chemical and Physical Sciences
.
-Engineering and Technology
.
-Business, Finance and Management
. -_ . -_ . -_ . -_ . -_ . -_ . -_ . -_ . -_ . -_ . -_ . -_ . -_ . -_ .
Advertising and Marketing
.
Building and Construction
.
Civil/Environmental Engineering
.
Medicine and Health (All Areas)
.
Molecular/Cellular Biology
.
Nutrition and Food Science
.
Pharmacology and Toxicology
.
Related qualifications
BIPT
BSc (Hons)

//= $dbem_address;?> //= $dbem_address_2;?>
//= $dbem_zip;?>
Other skills
Embedded Indexing
My experience includes embedded indexing:
- Microsoft Word (using WordEmbed)
- XML (DocBook) (using XTUL)
- HTML (HTMLBook) (using XTUL)
Recent indexes include
Please visit my website to view recent indexes ., ., .

Clients Include
Wiley Blackwell
McGraw-Hill
Royal Pharmaceutical Society
Institution of Civil Engineers (ICE)
Edinburgh Business School

Special Publication Type
Journals (Learned And Professional)
.
Tools
SKY INDEX
Adobe Acrobat; WordEmbed; XTUL Embedding Tool; XML Mind (XML Editor)