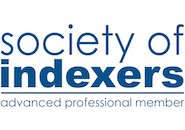 Marie-Pierre Evans, PhD MA
Location: Menai Bridge, Anglesey
Membership Grade: Advanced Professional Member
Contact Info
General Experience
Before qualifying as an indexer, I was a lecturer in Russian and French studies and, later, a professional librarian in the university sector. My academic qualifications cut across several disciplines, including history, politics, society, culture and literature. I have worked as a professional indexer on a freelance basis since 2011. I am happy to index any text aimed at a general readership. For more complex texts targeted at a postgraduate/specialist audience, I will consider any offers within the broad areas of Arts & Humanities, Social Sciences and Interdisciplinary Studies. Examples of indexes I have compiled, organised by subjects, can be accessed via my website under Portfolio. Comments from authors and reviewers can be found under Testimonials, and a list of my academic qualifications under Profile. I am happy to provide a C.V. and a list of all the indexes I have compiled on demand.
Please note that I only index on the basis of typset proofs using dedicated indexing software (i.e. I do not index in Word or on the basis of Word documents as suggested by some publishers). I do not do embedded indexing.
Subjects
Related qualifications
MA in Information and Library Studies, Loughborough University (with distinction) and winner of the Society of Indexers' Betty Moys Prize 2010

//= $dbem_address;?> //= $dbem_address_2;?>
//= $dbem_zip;?>
Other skills
Recent indexes include
Jadwiga Leigh, Blame, Culture and Child Protection, Palgrave Macmillan, 2017
Vicki P. Stroeher and Justin Vickers (eds), Benjamin Britten Studies: Essays on An Inexplicit Art, The Boydell Press, 2017
Shirley Read and Mike Simmons, Photographers and Research: the role of research in contemporary photographic practice, Routledge, 2017
Michael J. Braddick and Phil Withington (eds), Popular Culture and Political Agency in Early Modern England and Ireland: Essays in Honour of John Walter, The Boydell Press, 2017

Clients Include
Routledge, Ashgate (until 2015), Palgrave Macmillan, Focal Press, The Boydell Press, Facet Publishing, Yale University Press, Icon Books and Jessica Kingsley Publishing. I have also had commissions from authors published by The Boydell Press, Tamesis, D. S. Brewer, Cambridge Scholars Publishing and MIT Press.

Special Publication Type