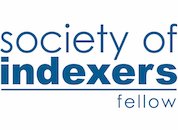 Margaret Christie
Location: EDINBURGH
Membership Grade: Fellow
Contact Info
General Experience
I am a specialist in classical and traditional music and musicology, and in feminist politics and non-sexist language. I have over 30 years' experience as a qualified indexer working on academic books, textbooks and general trade books. I find combining proofreading and indexing particularly effective. I welcome short projects, for which I can usually offer fast turnaround.
Subjects
Music
Specialist (mediaeval to contemporary classical and traditional) and general music-related texts. Degree in music.
Literature and Poetry In English
I have indexed books on poetry and plays.
Cookery Books
Experienced indexer of cookery books and related material.
Philosophy (All Areas)
I have indexed general and quirky philosophy texts.
-Social Sciences
Many social science books indexed, mainly for Edinburgh University Press and Taylor and Francis.
-Wellbeing, Self-Help and Personal Development
I have indexed many Mind/Body/Spirit-related books, mainly for Duncan Baird Publishers.
Food and Drink
Experienced indexer of cookery books and related material.
Christianity
I have indexed specialist and general books on Christian theology and related areas.
-Business, Finance and Management
Many indexes to business-related books, mainly for Pearson Education.
Related qualifications
BA (Hons) in Music
Professional Member of the Society for Editors and Proofreaders

//= $dbem_address;?> //= $dbem_address_2;?>
//= $dbem_zip;?>
Other skills
Proofreading
Extensive proofreading experience including academic books and business publications.
Copy-Editing
Extensive copy-editing experience mainly in the fields of music and business/finance.
Music (Editing And Proofreading)
I have copy-edited and proofread many books about music and a few songbooks.
Recent indexes include
Martin Hillman, Thomas Sanderson's account of incidents: The Edinburgh Musical Society 1727–1801 and its impact on the city
Gerry Cambridge, The Dark Horse: The making of a little magazine & sundry divagations on poets, poetry, criticism & poetry culture
Richard Murphy, The joy of tax: how a fair tax system can create a better society
Derren Brown, Happy: Why more or less everything is absolutely fine
Martin Morales, Andina: The heart of Peruvian food: Recipes and stories from the Andes

Clients Include
Transworld Publishers, HappenStance Press

Special Publication Type
Textbooks
Many textbooks indexed, mainly for Pearson Education.
Tools