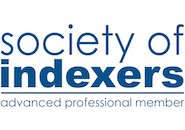 Kate McIntosh, MA
Location: ISLE OF ARRAN
Membership Grade: Advanced Professional Member
Contact Info
General Experience
I am a qualified law librarian and after 8 years working in law firms in London and Edinburgh began freelance indexing, abstracting, editing and proofreading for companies and individuals.
I index academic and general interest books and journals in a wide range of subjects, including: UK, EU and international law; history; government and politics; and social sciences.  I have also indexed books on religious history; arts and crafts; photography; travel; cinema and film; and ethics.
I have experience creating traditional and embedded indexes using Index Manager.
I am available all year and am used to working with publishing houses and agencies as well as directly with authors. If I have availability I am happy to take on projects at short notice.
Subjects
Law (All Areas)
I index books and journals on a variety of topics, including: charities law, company law, competition law, contract law, criminal law, employment law, environmental law, equality law, equity, EU law, family law, housing law, human rights law, immigration law, international law, land law, landlord and tenant, law and ethics, legal history, personal injury, planning law, popular law, private international law, public international law, shipping law, tort law, transport law and trusts.
Indexes include:
Parental Rights, Best Interests and Significant Harms, 2019
Sale and the Implied Warranty of Soundness, 2019
The Law of Contract Damages, 2017
Inquiries into Fatal Accidents and Sudden Deaths etc. (Scotland) Act 2016 (Annotated Act), 2017
Gas and LNG Sales and Transportation Agreements (5th Ed), 2017
International Perspectives on the Regulation of Lawyers and Legal Services, 2017
Gender Equality in Law: Uncovering the Legacies of Czech State Socialism, 2017
Informal Justice in England and Wales 1760–1914: The Courts of Popular Opinion, 2014
Company Law
See Law (All Areas)
Criminal Law
See Law (All Areas)
Employment Law
See Law (All Areas)
Family Law
See Law (All Areas)
International Law
See Law (All Areas)
Legal History
See Law (All Areas)
Popular Law (Works Intended For General Readers)
See Law (All Areas)
European Law
See Law (All Areas)
Eu Law
See Law (All Areas)
Property Law
See Law (All Areas)
Social Policy
I have experience indexing books in many fields of social policy, including: rights and obligations, retirement and pensions, employment, housing, LGBT studies, and social work.
Indexes include:
Justice and Profit in Health Care Law, 2019
Theorizing Digital Divides, 2017
Retiring to Spain: Women's narratives of nostalgia, belonging and community, 2015
Time on Our Side: Why we all need a shorter working week, 2013
Economics
I have indexed a number of books on economics, economic policy, finance and monetary policy. Books include:
Procurement by International Organizations: a global administrative law perspective, 2018
The Routledge Companion to Critical Accounting, 2017
History (All Areas)
I index history books and have experience indexing books about a variety of periods and aspects of life.
Indexes include:
Law and Society in England, 1750-1950, 2019
The Causes of War – Volume III: 1400 CE to 1650 CE, 2017
Revisiting the Concept of Defence in the Jus ad Bellum: The Dual Face of Defence, 2016
Nurse Writers of the Great War, 2015
Britain since 1688: A Nation in the World, 2014
Dissident Writings of Arab Women: Voices Against Violence, 2013
Postcolonialism and Islam: Theory, literature, culture, society and film, 2013
The City in the Muslim World: Depictions by Western Travel Writers, 2013
The Secret Anglo-French War in the Middle East: Intelligence and Decolonization, 2013
Modern History
See History (All Areas)
European History
See History (All Areas)
Social History
See History (All Areas)
Management
Indexes include:
Procurement by International Organizations: a global administrative law perspective, 2018
Ethical Business Practice and Regulation: A Behavioural and Values-Based Approach to Compliance and Enforcement, 2017
Time on Our Side: Why we all need a shorter working week, 2013
Handicrafts
Indexes include:
Collaboration through Craft, 2013
Cinema and Film
Indexes include:
The Death Penalty in American Cinema: Criminality and Retribution in Hollywood Film, 2015
Related qualifications
MA Library and Information Management

//= $dbem_address;?> //= $dbem_address_2;?>
//= $dbem_zip;?>
Other skills
Embedded Indexing
I have experience creating embedded indexes with Index Manager.
Taxonomic Indexing
I have extensive experience indexing using in-house taxonomies.
Proofreading
Over 10 years experience proofreading (law, social policy, popular law, legal history, art and design, and child health).
Abstracting
10 years experience abstracting in the fields of law and social policy (including local government, housing, public health).
Recent indexes include
Storr, Nauru: Imperial Form, International Status and the Histories of International Law, CUP, 2019
Simester, Spencer, Stark, Sullivan & Virgo (eds), Simester and Sullivan's Criminal Law: Theory and Doctrine, Hart Publishing, 2019
von Hein, Kieninger & Ruhl (eds), How European is European Private International Law?, Intersentia, 2019
Carroll, Hameiri & Jones, The Political Economy of Southeast Asia: Politics and Uneven Development under Hyperglobalisation, Palgrave Macmillan, 2019
Cornish, Banks, Mitchell, Mitchell & Probert, Law and Society in England 1750—1950, Hart, 2019
Maclean & Dijksterhuis, Digital Family Justice: from alternative dispute resolution to online dispute resolution?, Hart, 2019

Clients Include
Clients include: Hart Publishing; Sweet and Maxwell; W Green; Intersentia; Taylor and Francis; Oxford University Press; Cambridge University Press; Palgrave Macmillan; Avizandum; Edward Elgar Publishing. I also regularly work directly with authors.

Special Publication Type
Journals (Learned And Professional)
Including:
Company Lawyer, Sweet and Maxwell
Construction Law Journal, Sweet and Maxwell
Entertainment Law Review, Sweet and Maxwell
European Commercial Cases, Sweet and Maxwell
European Competition Law Review, Sweet and Maxwell
European Intellectual Property Review, Sweet and Maxwell
Fleet Street Reports, Sweet and Maxwell
Global Competition Litigation Review, Sweet and Maxwell
International Litigation Procedure, Sweet and Maxwell
International Trade Law & Regulation, Sweet and Maxwell
Journal of Housing Law, Sweet and Maxwell
Journal of Social Security Law, Sweet and Maxwell
Private Client Business, Sweet and Maxwell
Tools
PC
INDEX MANAGER
Microsoft Word and Excel