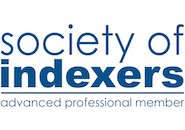 Joanna Penning
Location: Shropshire
Membership Grade: Advanced Professional Member
Contact Info
General Experience
An Accredited Indexer since March 2015 (now Advanced level), I have experience indexing academic, multi-authored, general interest and school books. My interests are eclectic including the arts, yoga, cycling and volunteering. My earlier professional career was as a  community Speech and Language Therapist (five years), and I was also involved, for many years,  in supporting adults with learning and physical/sensory disabilities in local community projects. For the last five years I have been establishing myself as an indexer, now also a proof reader, and am happy to accept commissions throughout the year.
Subjects
Cultural Studies
Indexes have been completed on topics such as indigenising European movements, the experience of Muslims in Scotland and Gaelic (Scottish) education. I have recently indexed a number of titles on modern Arabic and medieval Islamic literature for Edinburgh University Press.
Cinema and Film
Personal interest. Indexes have included: Aesthetics, Ethics and Trauma in the Cinema of Pedro Almodovar (Gutierrez-Albilla), Music and Sound in Silent Film (Barton), Irish cinema in the twenty-first century (Barton), Sofia Coppola The Politics of Visual Pleasure (Backman Rogers) Indian Documentary Film and Filmmakers (Kishore), and Postfeminist Whiteness (Marston).
Art History
Personal interest. I have completed a number of indexes in this specialism; for example, on ancient Greek art and sculpture. A film art book indexed was Indefinite Visions (Beugnet et al).
Early Years/Primary Education
A number of key stage 2 school books have been indexed. In my previous career as a Speech and Language Therapist I acquired considerable practical and theoretical knowledge of child development and education. Parenting and voluntary experience also.
Cookery Books
Cookery and food are great interests of mine. Work indexing the following would be welcomed:
– Food and drink
– Cookery books
– Nutrition and food science
– Gastronomy
Popular Medicine (Works Intended For Lay Readers)
Having worked many years as a professional Speech and Language Therapist, often collaboratively with parents, and health (and education) professionals, I would appreciate indexing projects in this field.
Linguistics - Applied
Subjects indexed include Gaelic in contemporary Scotland; genre, and teaching English for Specific Purposes. Recent projects include Concepts in Composition, Theory and Practices in the Teaching of Writing (Clark); also, The Oxford Handbook of Language Contact (Grant).
As my earlier career was in professional speech therapy, often in multi-cultural settings, I would welcome indexing work in:
– bilingualism and language development
– language and communication/speech disabilities
– linguistics, descriptive and theoretical
Politics
Indexes completed on subjects such as popular politics (historical); global ethics; political theology; Japanese politics; the Arab Spring.
The Story of the Scottish Parliament (Hassan) was a recent text indexed. A recent index was Building the Irish Courthouse and Prison, A political history 1750-1850 (Butler.
History (All Areas)
Widely read on this subject. Academic and multi-author book indexes have been completed, including:Interwar East Central Europe, The Failure of Democracy-Building, the Fate of Minorities (Ramet); The Gulf in World History (Fromherz). A series of GCSE history books was indexed for HartMcLeod. American, British, and women's history have been subjects tackled. Local history projects, also, would be welcomed.
Education (All Areas)
Professional and voluntary experience of this specialism. Many indexes completed: Leading Primary Geography (Geographical Association/Willy); Students with Disabilities and the Transition to Work (Mutanga); a series of history and geography/humanities study books for GCSE and secondary education; teaching handbooks. I would particularly appreciate projects in:
– Early Years/Primary Education
– Secondary Education
– Further/Continuing Education
– Adult Education
– Special Needs Education
– Teaching
– Study Skills
Social Sciences (All Areas)
Many book indexes completed; several recent examples have covered peace and conflict studies, also, rural development.
National Security, Personal Privacy and the Law (Sharpe) was recently indexed.
Happy to consider texts aimed at a general audience as well as academic texts within my areas of knowledge.
Psychiatry/Psychology
Recent examples indexed include: Psychoanalytic Thinking on the Unhoused Mind (Furby); Group Analysis: Working with Staff, Teams and Organizations (Novakovich, Vincent); Trauma and the Destructive-Transformative Struggle (McBride, Murphy); Identity in Adolescence (Ferrer-Wreder, Kroger)
Religious Studies
Indexes completed on subjects such as indigenising European movements, religious reform in early modern England, religion in the private/public spheres and Islam: the East-West encounter.
-Food and Nutrition
I am enthusiastic about all things culinary.
Social History
Personal interest. I have worked on titles with many related themes including: the Great Depression and Hollywood, the early silent film industry and war narratives. Recently indexed Building the Irish Courthouse and Prison, A political history 1750-1850 (Butler).
Related qualifications
BSc Clinical Language Sciences (Speech and Language Therapy)
PGCE (Primary)

//= $dbem_address;?> //= $dbem_address_2;?>
//= $dbem_zip;?>
Other skills
Proofreading
I completed the Basic Proofreading course with the Publishing Training Centre in 2018 (with merit) and went on to successfully complete further SfEP proofreading courses and mentoring scheme.
Recent indexes include
Sabrina Ramet (ed.), Interwar East Central Europe, 1918-1941, The Failure of Democracy-Building, the Fate of Minorities, Routledge/Taylor & Francis, 2020
Anthony Grant, The Oxford Handbook of Language Contact, Oxford University Press, 2019
S. Sharpe, National Security, Personal Privacy and the Law, Taylor & Francis, 2019
S. Karly Kehoe, Michael E. Vance (eds.), Reappraisals of British Colonisation in Atlantic Canada, 1700-1930, Edinburgh University Press, 2020
Yasmine Ramadan, Space in Modern Egyptian Fiction, Edinburgh University Press, 2019
Erin Sheley, Criminality and the Common Law Imagination in the Eighteenth and Nineteenth Centuries , Edinburgh University Press, 2020
Gerry Hassan, The Story of the Scottish Parliament, Edinburgh University Press, 2019
T. McBride, M. Murphy, Trauma and the Destructive-Transformative Struggle, Routledge/Taylor & Francis, 2019
Richard J. Butler, Building the Irish Courthouse and Prison, A political history, 1750-1850, Cork University Press, 2020
Graham Harvey (ed.), Indigenising Movements in Europe, Equinox/Open University, 2020

Clients Include
Cork University Press
Manchester University Press
Edinburgh University Press
DK
Routledge/Taylor & Francis
Berghahn Books
Brill
Geographical Association
HartMcLeod
Pearson
Oxford University Press
other university presses (international)
individual authors and small publishing houses

Special Publication Type
Tools