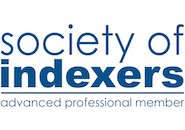 Joanna Penning
Location: Shrewsbury
Membership Grade: Advanced Professional Member
Contact Info
General Experience
An Accredited Indexer since March 2015, I have experience indexing academic, multi-authored, school and trade books. My initial training and profession was in allied health. But now I enjoy indexing  a wide range of subjects, reflecting my interests and background. I am available for indexing throughout the year, often including holiday periods, and can usually accommodate work at short notice.
Subjects
Cultural Studies
This is an area of great interest to me. I have completed indexes for books on Irish ethnomusicology, the experience of Muslims in Scotland, and courtly literature in medieval Islamic empires.
British History
Indexes have been completed on the subject of popular politics in 18th century Britain, and on various GCSE topics.
Cinema and Film
Indexes have included: Gutierrez-Albilla's 'Aesthetics, Ethics and Trauma in the Cinema of Pedro Almodovar', Beugnet et al: 'Indefinite Visions', and Morgan and Davies' 'Hollywood and the Great Depression'.
Art History
I am quite a keen amateur artist. Recently I completed an index on ancient Greek art and sculpture. A recent film art book indexed was 'Indefinite Visions' (Beugnet et al).
Early Years/Primary Education
I have worked in educational settings, and retain an interest in this area.
Special Needs Education
I have previous professional experience of this field, having worked as a Speech Therapist for over five years.
Cookery Books
Cooking is a hobby of mine, and I enjoy perusing recipe books.
Linguistics - Descriptive and Theoretical
My Speech and Language therapy degree included this subject. English for Specific Purposes was a topic indexed recently.
Linguistics - Applied
I recently completed an index to a book about genre and English for Specific Purposes. Linguistics and phonetics/phonology were major specialisms in my degree.
Politics
I have indexed books on popular politics in 18th century Britain, global ethics, political theology, and, most recently, Japanese politics.
History (All Areas)
Book topics indexed include: the American West; the Russian Revolution; USA – in Vietnam War and the Civil Rights movement; the Middle East; the Tudors; the Spanish voyages of discovery; medicine through the ages.
Modern History
Many school GCSE topics have been indexed. Generalist and academic books indexed include subjects such as Tudor women, and America/Hollywood in the Great Depression.
Learning Disabilities
I have professional experience and qualifications in this field.
Religious History
Medieval Islam and early modern Christianity are subjects indexed; also, political theology.
Yoga
I am a yoga enthusiast.
Psychiatry/Psychology
Two recent indexes on psychoanalysis.
Child Development
As a parent and having worked professionally in community health I have an interest in related issues.
Gender Studies
This has been a theme in various books indexed, including a number of books on film/media studies. Elizabeth Norton's 'Tudor Women' was indexed quite recently.
Related qualifications
BSc PGCE MSocInd(Adv)

//= $dbem_address;?> //= $dbem_address_2;?>
//= $dbem_zip;?>
Recent indexes include
Saul Haimovich,
Freud's Scientific Revolution
, Free Association Books, 2017
Samuel England,
Medieval Empires and the Culture of Competition
, Edinburgh University Press, 2017
John O'Keefe,
The Masses of Sean and Peadar O Riada
, Cork University Press, 2017
Louis D. Hayes,
Introduction to Japanese Politics
, Routledge, 2017
Clients Include
Cork University Press/Attic Press
Routledge
Edinburgh University Press
Free Association Books
Head of Zeus
Geographical Association

Special Publication Type
School Books
A wide range of school books on the humanities and general science has been indexed.
Manuals And Handbooks
A secondary school teachers' handbook for the Geographical Association was indexed quite recently.
Tools