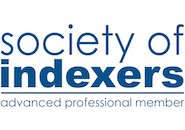 Ingrid Lock, BSc
Location: HOVE
Membership Grade: Advanced Professional Member
Contact Info
General Experience
Indexing since 1986, I have worked on a wide variety of projects from science and technology to art, cookery, gardening and craft (these latter subjects being particular interests of mine). I am prepared to undertake large or small projects and work to short deadlines if necessary.
Subjects
Cookery Books
I have a passion for cooking and preserving the produce from our allotment, and have indexed countless books on this subject over the years.
Horticulture
Gardening on the allotment and at home takes a lot of my time and I have picked up many tips from the books I have indexed.
Handicrafts
Creative books are such a good resource to pass information on to the future and creating a good index is an important factor for users.
I run a weekly spinning and weaving group.
Earth Sciences
My university degree was geology-based and I therefore have a good working knowledge of this subject.
Yoga
I attend classes weekly and have a good knowledge of various types of yoga.
Knitting and Crochet
This is a big hobby of mine and I run a weekly group, so keeping up with current trends.
Geology
My university degree was geology-based and I am on the committee of our local Geological Society.
Drawing and Painting
I was the indexer for The Artist and The Leisure Painter for many years and have indexed many books on the subject.
Interior Design
I have completed many book indexes on this subject for several publishers.
Related qualifications
BSc

//= $dbem_address;?> //= $dbem_address_2;?>
//= $dbem_zip;?>
Recent indexes include
Kosuge, Tony, West & East, FocalPoint Press, June 2016
Bouras, Prof. Nick, Reflections on the Challenges of Psychiatry in the UK and Beyond, Pavilion Publishing & Media, January 2017

Clients Include
Cico Books
Conran Octopus

Special Publication Type
Tools