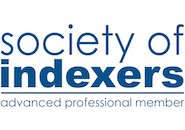 Colette Levitt
Location: COTTINGHAM
Membership Grade: Advanced Professional Member
Contact Info
General Experience
BSc Hons. Degree in Librarianship (1988) and Chartered status (2003). 15 years' service in public libraries.   A qualified Indexer since 2009, achieving Advanced status in 2014.
A broad range of subjects covered for academic, professional and general readership.   A good quality and punctual service is provided to clients at a reasonable price. To date over 200 indexes created, the majority for large publishing houses.
Subjects
Geography - Human
Academic commissions covering the environment, urban planning and transport systems, energy management in buildings, sustainability and renewables.
Urban Development
Academic commissions covering urban planning, transport systems and landscape architecture
Environmental Science
Academic commissions covering renewable energy, sustainability, climate policy and agricultural resource management.
Health and Safety
Specialised and general texts. Subjects included construction sites, HVAC systems, IEE regulations and offshore safety.
Architecture
Academic and general texts on history of architecture and building design
British History
Academic and general texts covering specific periods and overviews
European History
Academic and general texts on Europe-wide events, specific countries and national identity
Social History
Academic commissions on terrorism, nationalism and social movements
International Relations
Academic commissions on regional security and foreign policy; regional cooperation; contemporary racism
Local History
As a librarian, catalogued local history collections. I have personal interest in my local area.
Genealogy/Family History
Personal interest having researched own family history
-Sports and Games
Academic and general books. Topics including sports coaching, international sports organizations, professional football and adventure sports.
TravelTourism
Travel guides, both countries and cities
Music
Popular music biographies. Artists include Blondie, George Michael and Jimmy Page.
Photography
Books covering techniques and styles of photography.
Cookery Books
General readership.
Pets
Personal interest through ownership
Related qualifications
Chartered Librarian

//= $dbem_address;?> //= $dbem_address_2;?>
//= $dbem_zip;?>
Other skills
Cataloguing And Classification
Catalogued local history collections and music score library.
Recent indexes include
Hoogensen Gjørv, Gunhild, Lanteigne, Marc and Sam-Aggrey, Horatio, Routledge Handbook of Arctic Security, Routledge, 2020
Bleakley, Alan, Routledge Handbook of the Medical Humanities, Routledge, 2019
Ruggiero, Vincenzo, Organized Crime and Terrorist Networks, Routledge, 2019
Lim, C.J. and Liu, Ed, Smartcities, Resilient Landscapes and Eco-Warriors, Routledge, 2019
Tumber, Howard and Waisbord, Silvio, Routledge Companion to Media and Scandal, Routledge, 2019
Heikell, Rod and Lucinda, Italian Waters Pilot, Imray, 2019
Forde, Eamonn, The Final Days of EMI, omnibus Press, 2019
Biscop, Sven, European Strategy in the 21st Century, Routledge, 2018
Sellers-Young, Barbara and McCutcheon, Jade Rosina, Narrative in Performance, Palgrave Macmillan, 2018
Pries, Ludger, Refugees, Civil Society and the State, Edward Elgar Publishing, 2018

Clients Include
Routledge
Edward Elgar Publishing
Palgrave Macmillan
UCL Press
Imray Laurie Norie & Wilson
Dorling Kindersley
Omnibus Press

Special Publication Type
Tools