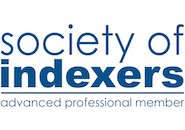 Chantal Hamill

Location: LINLITHGOW
Membership Grade: Advanced Professional Member
Contact Info
General Experience
I have been indexing since 1990. I am a former law librarian and welfare adviser, and have considerable experience of legal indexing and legal tabling. I also index most non-scientifc subjects. I am a native French speaker and bilingual: I was brought up and educated in France, and graduated in Paris (English Studies). I occasionally write on local history in Scotland, and work as a volunteer in my local museum.
I have indexed around 1000 books in my career. A few of them are mentioned below.
Subjects
Law (All Areas)
Very experienced legal indexer, both English, Scottish, foreign and international law. Parker and Majundar: Merger Control (Hart Publishing); Teubner: Networks as Connected Contracts (Hart); Fordham: Judicial Review (Hart); McManus: Environmental Law in Scotland (EUP); Selejan-Gujan: The Constitution of Romania (Hart); Ashton: Taxation in Guernsey (Key Haven)
English Literature
Degree in English; Poplawski: English Literature in Context (CUP); Brown: The Literature of Ireland (CUP); Graham and Ward: Cambridge History of African American History (CUP); Raffield: Shakespeare's Imaginary Constitution (Hart); Edlich-Muth: Malory and his Contemporaries (Boydell & Brewer); Ward: Sex, Crime and & Literature in Victorian England (Hart)
Literature and Poetry In Foreign Languages
I can index all aspects of French literature; born and brought up in France to degree level; Elsner: Mourning and Creativity in Proust (Palgrave Macmillan). Burgwinkle: Cambridge History of French Literature (CUP)
Politics
British and international politics. Bryson: Redefining Social Justice: New Labour, Rhetoric and Reality (MUP); Levgold: Return to Cold War (Polity)
European History
All countries and period, but particularly Germany and France as I understand the language
European Union
I have indexed well over a hundred books on the subject. Cremona et al: The EU and International Dispute Settlement (Hart Publishing).
French (Indexing In)
Bilingual French speaker. Tremblay (ed): Les Lumieres Catholiques et le Roman Francais (Liverpool University Press).
History (All Areas)
I am a passionate reader of history books and feel equal to any subjects and places. Yuan: History of Chinese Civilisation (CUP, 4 vols)
Local History
I have researched and written on 17th century Livingston and West Lothian and was involved with the Scottish Local History Forum for a long time. Long: Looking at Linlithgow: Art: The Royal Burgh in Art through the Centuries (Linlithgow Civic Trust).
Current Affairs
I have indexed SIPRI Yearbooks for years; Anne Stenersen: Al Qaida in Afghanistan (CUP); Selwyn: Workers, State and Development in Brazil (MUP); Primoratz: Terrorism: A Philosophical Investigation (Polity); Smith: North Korea: Markets and Military Rule (CUP)
International Law
I have indexed well over a hundred books on the subject. Dupuy and Vinuales: International Environmental Law (CUP); Schabas: Introduction to the International Criminal Court (CUP); Irish Yearbook of International Law' (Hart); D'Ascoli: Sentencing in International Criminal Law (Hart; Subedi: International Investment Law (Hart); Dawar: Legality of Bailouts and Buy Nationals (Hart); Jakobson & Melvin: The New Arctic Governance (SIPRI)
Social History
Lilt: The Invention of Celebrity (Polity)
European History
Kicharov: Republican Europe (Hart Publishing)
Legal Tabling
Experience of tabling both British and international material
Philosophy (All Areas)
Kant: The Metaphysics of Morals (CUP); Melamed and Rosenthal: Spinoza's Theological Political Treatise (CUP); Fritzman: Hegel (Polity); Thoma: Troublemakers: A Philosophy of Puer Robustus (Polity)
Social Sciences (All Areas)
Hodge: Social Semiotics (Polity)
International Relations
Eeckhout and Lopez-Escudero: The EU's External Action in Time of Crisis (Hart); Picker, Wang and Zhou: The China-Australia Free Trade Agreement: a 21st Century Model (Hart)
France
All aspects of the country, history, language, politics, travel and literature; Clarke: France in the Age of Organisation (Berghan); Boyron: French Constitution(Hart); Burgwinkle: Cambridge History of French Literature (CUP)
French (Works About)
Bilingual French speaker. Elsner: Mourning and Creativity in Proust (Palgrave Macmillan). Burgwinkle: Cambridge History of French Literature (CUP)
Sociology
Shaw: Shopping (Polity); Hibou: The Force of Obedience (Polity); Kaufman: Love Online (Polity); Turner: The Religious and the Political: A Comparative Sociology of Religion (CUP); Howson: The Body in Society (Polity)
Religious History
Madden: Paddington Prophet (Manchester University Press)
Employment Law
I used to represent claimants at employment tribunals in Scotland. Fenwick and Novitz: Human Rights at Work (Hart Publishing); Bruun et al: European Social Charter and the Employment Relation (Hart Publishing)
Finance
Davies: The Financial Crisis (Polity); Gulliver & Payne: Corporate Finance Law (Hart); McNeil: Law of Financial Instruments (Hart)
Criminal Law
Cunneen and Hoyle: Debating Restorative Justice (Hart); Brown: Criminal Evidence and Procedure (Avizandum)
Eu Law
Extensive experience in the subject; Oliver: Free Movement of Goods in the European Union (Hart); Ortiz Blanco: Market Power in EU Antitrust Law (Hart); Silva Morais: Joint Ventures and EU Competition Law (Hart)
Cultural Studies
Bourdieu: Manet: A symbolic Revolution (Polity); Zamora and Behrens: Foucault and Neoliberalism (Polity); Shaw: The Three Amigos (MUP); Floyd & Wilson: Occult Knowledge, Science and Gender on the Shakespearean Stage (CUP); Goddard: Popular TV in Authoritarian Europe (MUP); Wessler: Habermas and the Media (Polity)
Warfare/Defence
Schmitt: Writing on War (Polity); SIPRI Yearbooks; Hall & Malesovic: Nationalism and War (CUP)
Property Law
Bright: Modern Studies in Property Law (Hart)
Medieval History
Lees: Cambridge History of Early Medieval English Literature (CUP)
Modern History
Van Gastek: WTO History (WTO)
Related qualifications
Maitresse-es-Lettres; DipLIb

//= $dbem_address;?> //= $dbem_address_2;?>
//= $dbem_zip;?>
Other skills
Recent indexes include
Larson & Gill, Organizations and Identity, Polity, 2017
Yardigi, The Political Economy of the Kurds of Turkey, CUP, 2017
Picker, Wang & Zhou (eds), The China-Australia Free Trade Agreement, Hart, 2017
Dannreuther, Energy Security, Polity, 2017
Yang, Mental Health in China, Polity, 2017
Biggs, Step by Step Guide to Wills and Probate, Wildy, 2017
De Figueiredo, Henrik Ibsen: The Man and the Mask, Yale University Press, 2018
SIPRI Yearbook 2018, SIPRI, 2018

Clients Include
Hart Publishing
Edinburgh University Press
Cambridge University Press
Polity
SIPRI
Manchester University Press
Wildy
Jersey and Guernsey Law Review
Yale University Press

Special Publication Type
Biographies/ Autobiographies
Samoyault: Roland Barthes: A Biography (Polity); Muller-Doohm: Habermas (Polity)
Directories And Yearbooks
SIPRI Yearbooks; CYELS Yearbooks
Textbooks
Sullivan: Course Notes: Contract Law (Hodder); Welfare State Reader (Polity)
Tools