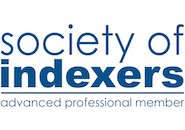 Sandy Aitken, BSc
Location: CAMBRIDGE
Membership Grade: Advanced Professional Member
Contact Info
General Experience
I have indexed many books on the social sciences (including sociology, anthropology, history, cultural studies, area studies and more), business and economics.
My experience is with academic texts but also with books aimed at bringing social science topics to a broader audience.
Prior to becoming an indexer I worked in international communications, market and social research for many years, covering six continents and a wide range of subject matter.
I aim to create indexes which provide access to all meaningful topics and themes in your book or document. Topics which are not stated explicitly are as important as those which are stated outright.
My previous experience in communications research also helps me to create indexes which are truly user-friendly, by thinking about your book and the subject from the readers' point of view. I take into account how real readers look for information, and how your readers are likely to use your book or document.  
I can index for audiences on either or both sides of the Atlantic, or the global English-speaking community.
//= $dbem_address;?> //= $dbem_address_2;?>
//= $dbem_zip;?>