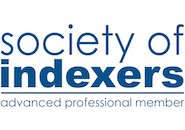 John Sampson, MSocInd(Adv.)
Location: STOCKPORT
Membership Grade: Advanced Professional Member
Contact Info
General Experience
Twenty years' experience of medical indexing.
Previously in practice in hospital medicine, psychiatry and diagnostic radiology.
My main experience is in back-of-book indexing of medical textbooks published traditionally on paper.
I am flexible in being able to adapt to new ways of identifying locators so as to make indexes repurposable.
Recent books indexed (less recent ones listed below):–
Medical Statistics from Scratch: David Bowers
Mount Sinai Expert Guides Oncology: Oh and Chari
Medical Statistics at a Glance: Petrie and Sabin
Textbook of Surgery: Smith
Electrocardiography in Ischemic Heart Disease: Fiol-Sala
Subjects
Medicine and Health (All Areas)
480 books in a wide range of medical and related subjects indexed so far.
Related qualifications
M.B., B.S., D.M.R.D.

//= $dbem_address;?> //= $dbem_address_2;?>
//= $dbem_zip;?>
Other skills
Recent indexes include
Mount Sinai.Simon, Psychiatry, Wiley, 9 January 2017
Mertz, Evidence-based Infectious Diseases 3rd Edn., Wiley, 2 March 2018
Bradley, Wood, Gurnell, Clinical Medicine Lecture Notes 8th Edn., Wiley, 9 April 2018
Sugand, Gupte, ABC of Orthopaedics and Trauma, Wiley, 28 May 2018
Dougherty, Royal Marsden Manual of Cancer Nursing Procedures, Wiley, 19 June 2018
Campbell and Carr, Midwifery Emergencies at a Glance, Wiley, 9 July 2018
Cox, Pocket Guide to Physical Assessment, Wiley, 5 March 2019

Clients Include
Wiley, Society for Endocrinology, Pharmaceutical Press, Naughton Project Management, Hodder Arnold, Blackwell Professional, Elsevier, Clinical Publishing, Royal Society of Medicine.

Special Publication Type
Tools
SKY INDEX
CUSTOM INDEXING SOFTWARE