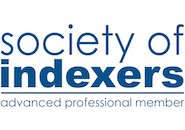 Catherine Topliff, MA
Location: Chesham
Membership Grade: Advanced Professional Member
Contact Info
Social Links
General Experience
I have been indexing full-time for 17 years and have compiled over 500 indexes. I specialize in the area of professional medicine and the biological sciences. Before taking up indexing I worked as a biochemist in the healthcare industry (specifically immunodiagnostics) where I gained considerable experience in project management – I know how important it is to meet deadlines. I have a good working knowledge of molecular biology. My degree is in Natural (Biological) Sciences from Cambridge University.
Personal interests include British/European history and the history of science. I am available all year round and am equally happy to take on both short and long commissions.
Subjects
Medicine and Health (All Areas)
I have compiled over 400 indexes in the general area of medicine in a wide variety of specialisms, including Anaesthetics, Obstetrics and Gynaecology, Oncology and Cardiology as well as many revision textbooks for professional examinations.
Surgery
For example,
Banaszkiewicz, P.A. and Kader, D. F.
Postgraduate Orthopaedics: Viva Guide for the FRCS (Tr & Orth) Examination (2nd edn). CUP 2019
Microbiology
For example,
Tong, C. Y. W., Rosmarin, C. and Sefton, A.
Tutorial Topics in Infection for the Combined Infection Training Programme OUP 2019
Pathology
For example, Biswas Pearls and Pitfalls in Inflammatory Dermatopathology CUP 2017
History and Philosophy Of Science
For example
Evans: The Metamorphosis of Autism, MUP 2017
Overy and Tansey: Historical Perspectives on Rural Medicine, QMUL 2017
Agriculture
For example
Albrigo, L. G., Stelinski, L. L. and Timmer, L. W.
Citrus, 2nd edn CAB International 2019
Rout, P. K., Kumar, A. and Behera, K. A.
Goat Production and Supply Chain Management in the Tropics CAB International 2019
Zoology
For example, Nielsen Olfaction in Animal Behaviour and Welfare CAB International 2017
Molecular/Cellular Biology
For example,
Miu, A. C., Homberg, J. A. and Lesch, K-P
Genes, Brain, and Emotions OUP 2019
Psychiatry/Psychology
For example, McGorry, P. D.
Clinical Staging in Psychiatry CUP 2019
//= $dbem_address;?> //= $dbem_address_2;?>
//= $dbem_zip;?>
Other skills
Recent indexes include
Wilfried Mai, Diagnostic MRI in Dogs and Cats, CRC Press (T&F), Oct 2018
Joseph Friedman and Clive Ballard, Psychosis in
Parkinson's Disease, S Karger, May 2019
Ettinger, Weisbrot and Gallimore, Synopsis of Neurology, Psychiatry and Related Systemic Disorders, CUP, May 2019

Clients Include
Cambridge University Press
CAB International
S Karger

Special Publication Type
Tools